"SYNAGOGUE" CENTER IN ZAMOSC 2017-04-24
WARSZAWA 2017-04-20

A representative of our Foundation took part in the commemoration ceremony organized at a Memorial of Common Martyrdom of Poles and Jews in Warsaw by the Nissenbaum Foundation.

WARSZAWA 2017-04-19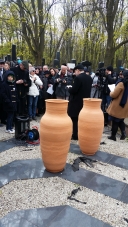 Prewar Torah scrolls were ceremonially buried on the Okopowa cemetery today. The scrolls survived the war, but were damaged to the point that they were deemed unfit for religious purposes. Our Foundation was a partner of the event. In near future a matzeva will be installed on the site, more »

PESACH 2017-04-10

May your Pesach will be full of joy, peace and happiness. Chag kasher v'sameach!


We also would like to inform you that our office will be closed on the following days in April: 11-12, 17-18.

"SYNAGOGUE" CENTER IN ZAMOSC 2017-04-06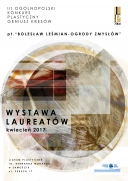 Bernardo Morando Fine Arts High School in Zamość and the "Synagogue" Center of the Foundation for the Preservation of Jewish Heritage in Poland would like to invite you to the post-competition exhibition of the 3rd National Art Competition "The Genius of the Borderlands".
more »

"SYNAGOGUE" CENTER IN ZAMOSC 2017-04-06
BRANSK 2017-04-04

Our Foundation installed a memorial plaque on the Jewish cemetery in Bransk. It was financed by private donors from the USA - Sofer family of Houston, Texas.
The cemetery in Bransk was funded in 1820. There is about 170 tombstones left on the cemetery grounds.