Album "Preserving Jewish Heritage in Poland" 2017-08-17

We are happy to inform that the second, updated edition of the album "Preserving Jewish Heritage in Poland" was recently published by our Foundation along with the Ministry of Foreign Affairs. It presents the most important and most spectacular activities for more »

KROSNIEWICE 2017-08-11

Fragments of Jewish tombstones, that were found in Krosniewice at the beginning of August, were deposed on the local Jewish cemetery. We cordially thank the authorities of Krosniewice for their quick reaction!
The cemetery was fenced by our Foundation back in 2014, and
more »

REVITALIZATION OF THE SYNAGOGUE IN PRZYSUCHA 2017-08-10

On August 1, 2017, works started in Przysucha within the framework of the "Przysucha, Synagogue (18th c.): securing and repair of the bimah – phase I", co-financed by the Ministry of Culture and National Heritage. Within the framework of the project the roof construction more »

GNIEWOSZÓW 2017-08-02

We are happy that FODZ was instrumental in assisting Dr. Anita Friedman in all technical issues, construction and rededication of Gniewoszow Jewish cemetery. Now this wonderful story was described in JWeekly. Thank you Dr Friedman for outstanding initiative and leadership!
more »

LELÓW 2017-07-28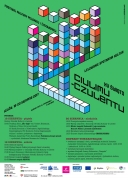 Our Foundation is partner of the 15th
edition of the Jewish Culture Festival in Lelow, which will take place on August 18-20, 2017. The event is being organized by the Town Office of Lelow www.lelow.pl.

RADOM 2017-07-17

Our Foundation is partner of the 9th edition of the Meetings with Jewish Culture "Ślad (Trace)", which will take place between August 3-6, 2017 in Radom. The event is being organized by the Resusca Obywatelska Art and Culture Center in Radom.

We cordially invite more »

DYNOW 2017-07-12