NOWY ZMIGROD 2017-06-23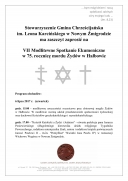 On July 6, 2017, on the 75th anniversary of murder of Jews of Nowy Zmigrod by the German Nazis, the Leon Karcinski Christian Community Society of Nowy Zmigrod organizes the 7th Ecumenical Prayer Meeting. The event will start at 3pm at the mass grave in Halbow.more »

ZAMOŚĆ 2017-06-21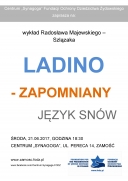 The "Synagogue" Center of the Foundation for the Preservation of Jewish Heritage in Poland is pleased to invite you to a Radoslaw Majewski - Szlazak's lecture: "Ladino - the forgotten language of dreams."
You will hear the history of Ladino language, that developed
more »

RZESZÓW 2017-06-16

Our Foundation is one of the partners of the March of Memory, commemorating thousands of Jews from Rzeszow who were sent to the death camps in July 1942. The event will take place on July 9, 2017, at 2 pm. On the 75th anniversary of the liquidation of Rzeszow ghetto, more »

SOKOLOW MALOPOLSKI 2017-06-14
TARNOBRZEG 2017-06-12
ZAMOSC 2017-06-09
WOJSLAWICE 2017-06-07

A wall is being built around the Jewish cemetery by our Foundation, thanks to the support of Yossi Yeinan and the US Commission for the Preservation of America's Heritage Abroad.