BEDZIN - Public Secondary School No. 1

Who are we
BEDZIN - Public Secondary School No. 1
What we do in the project
Project: XIXth century Jewish cemetery on the Gora Zamkowa in Bedzin
Students from Bedzin have decided to look after Jewish cemetery on Gora Zamkowa in Bedzin. This is the only surviving Jewish cemetery, out of three that used to be in this town. First of them was founded in the Middle Ages, just outside the city walls. Second one, the existing one, was opened in 1831. And the last one dates from the end of the XIXth century.
Some information about the cemetery
The cemetery is located on the north, narrow slope of the hill.
Nowadays it is covered with trees. Some of the matzevot (tombstones) have slided to the lower part of the cemetery. Most of the tombstones are overturned and knocked over, many of them are shattered or survived only in fragments.
In the center of the cemetery there was an ohel, from which only pieces of foundations have survived to the present times. We cannot say whose grave is it. Perhaps it belonged to rabbi Jakub Natan, who died in 1834.
During the stock-taking 805 matzevot, or their fragments, were discovered – oldest of them dates back to 1831. And part of the cemetery is buried beneath the rubble because of the tunnels that have been dug under the Gora Zamkowa during the World War II.
Why the cemetery?
We travel across our cities, unaware of the history of place where we live and therefore important part of our own history. Left to it's fate, neglected and abandoned they are only shadows of their passed glory. If we discover and remember them we are able to understand our heritage and we will give back the rightful meaning to those monuments. Only reliable historical knowledge and understanding of tradition are foundations to the bonds that connect young people with place where they were born and where do they live.
Ways of the project's execution.
Students of local school with their teachers Marcin Lazar and Jacek Pasierb for nearly 2 years are looking after the Jewish cemetery in Bedzin.
During each semester they cleaning the cemetery at least twice (during spring and autumn), of course within the regulations of Rabbinic Committee concerning Graveyards.
Once a year new participants of the project take part in the multimedial presentation called "Bedzin przez wieki" (Bedzin through the ages), during which old photos of Bedzin are being presented. Afterwards they organize training on Gora Zamkowa, with the employee of the Muzeum Zaglebia w Bedzinie Mr Jaroslaw Krajniewski, during which pupils are practicing how to read texts written on the matzevot..
Plans for year the 2006
- Lecturers in the Mizrachi synagogue and newly discovered synagogue in so called "Brama Zukermana" (The Zukerman's Gate)
- Multimedia training: cultural and religious habits in Judaism
- Cleaning of the cemetery
- Training "Pamiętnik Rutki Jaskier" (A diary of Rutka Jaskier)
- Organization of the Regional Conference, connected with the IVth Days of the Jewish Culture in Bedzin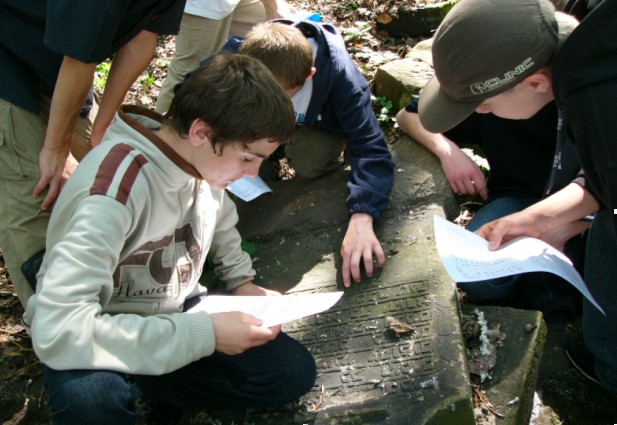 » back