JAROSLAW - Public Middle School No. 3

Who are we
JAROSLAW - Public Middle School No. 3
What we do in the project
Students from Public School no.3 in Jaroslaw have just started their activities for the "To Bring Memory Back" programme, to which they have dedicated an after school club.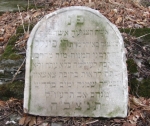 This is how the students describe their aims:
We have collected much information on the Jews in Jaroslaw. The information is mainly on the origins of Jewish presence in Jaroslaw and their activities, on the Chevrah Kaddisha, Baumgarten's printing house, the local mikvaot, the cemetery, during the occupation period. We also found some information on the synagogue, hospital and bakery.
We also collected a broad bibliography on this subject, and localized some of the buildings. Under better weather conditions we will visit the cemetery and check what state it is in. We will take photos of the cemetery, synagogue, and the mansions in which the Jewish objects once were.
From the collected research we will prepare a piece of work. We have also planned to exhibit photos and artworks on the cultural heritage of our town relating to the history of the Jews in Jaroslaw (in the near future we hope to extend this to include the Ukrainian population). We might even organize a trip in the footsteps of the Jews of Jaroslaw.
» back