CZESTOCHOWA - Secondary School No. 15

Who are we
CZESTOCHOWA - Secondary School No. 15
What we do in the project
Students from the 15th Middle School in Czestochowa work on a project they have called "Jewish cemetery in Czestochowa and the history of the town." They visited the cemetery in November 2005 and sent us a report from their visit.
The report from the visit at the Jewish cemetery on Zlota St. in Czestochowa.
On November 27th, 2005, we visited the Jewish cemetery in Zlota Street. The aim of our trip was to see the site and check its condition. After a short walk around we were fascinated by the place. The view of the trees grown with ivy and the Jewish tombstones grown with moss strongly impressed us. The condition of many of the matzevot is not satisfying. The letters are hardly legible. Only some very few matzevot is preserved in good condition. The access to the cemetery is quite difficult, since it is located far away from the city centre, on the grounds that currently belong to a local ironworks. The only access to the cemetery is by a railway bridge.
The Jewish Cemetery in Czestochowa was founded in 1799. It is the fourth largest Jewish cemetery in Poland. At the area of 8,5 ha there are c. 2000 graves, the eldest are dated for the beginning of the 19th century. On some matzevot remains of paintings are to be seen. At the cemetery there is also a mass grave of Jews from the Czestochowa ghetto, exterminated during WWII. The mass grave is commemorated by a monument. Another monument was erected to commemorate members of the Jewish Combat Organization.
We regard the visit as successful. We had a chance to check the condition of the matzevot. We have also prepared a schedule of works that are to be done at the cemetery.
Pictures taken by the students in winter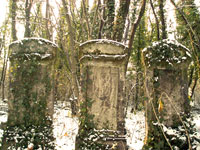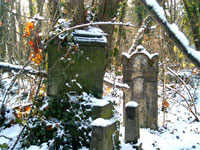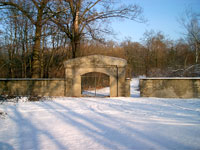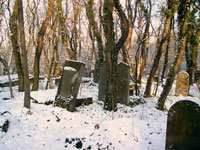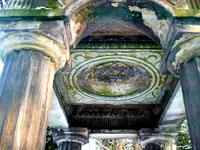 » back