INTERNATIONAL HOLOCAUST REMEMBRANCE DAY 2017-01-27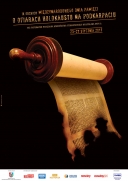 Our Foundation was partner of the 9th International Holocaust Remembrance Day in Subcarpathia Region, which took place on January 23-27, 2017. 38 towns and cities in the area took place in this important event. The central part was organized in Rzeszow more »

HOLOCAUST MEMORIAL DAY IN THE "SYNAGOGUE" CENTRE IN ZAMOSC 2017-01-27

On Friday, January 27, on the occasion of the Holocaust Memorial Day,
wartime memoirs of Kurt I. Lewin from Lviv were read
in the Zamosc synagogue. After the reading, the remains of a prewar synagogue scroll from Zamosc were shown more »

CIECHANOW 2017-01-27

In honor of International Holocaust Memorial Day, our Foundation is pleased to announce that we have today signed a partnership agreement with the Municipality of Ciechanów. Among other tasks, we will together renovate the CiechanówJewish cemetery and publish in Polish the Ciechanów more »

WASHINGTON, USA 2017-01-20

We are proud to inform you that Mr. Herbert Block, member of the Board of Directors of our Foundation, was reappointed by President Obama as a Member of the U.S. Commission for the Preservation of America's Heritage Abroad. This is an independent Federal agency established more »

RAWA MAZOWIECKA 2017-01-19

A monument commemorating the local Jewish community is under construction in Rawa Mazowiecka. The project, carried out by the Town Office and our Foundation, will see completion in spring 2017.
more »