SZYDLOWIEC - Secondary Schools No. 2

Who are we
SZYDLOWIEC - Secondary Schools No. 2
What we do in the project
Project: "The stones will speak…"
Before World War II Szydlowiec was a typical shtetl; c. 70% of its citizens was Jewish. For centuries Jews were creating the town's particular character. Today the only traces that remind us about their presence are: a cemetery, a few houses, and old mill that used to be the property of the Kurlender family, a house and a house of prayer of Nuta Ajzenberg, a building of liqueur factory and a building of the "Butonia" button manufacture.
We could say, paraphrasing the words of Isaac Bashevis Singer:
"When we say: Szydlowiec, we see the old, Jewish Szydlowiec. We see Jewish streets, stalls, synagogues, houses of prayer markets, yards full of Jewish people. How is the existence of a Polish-Jewish town possible without a synagogue and a house of prayer? Is it possible to imagine a Friday without a steaming mikveh, without Jewish women baking chala and preparing chulent? It is so difficult to imagine that all this had suddenly turned to ash.
We cannot, and, first of all, we do not want to forget about this colorful past of our town. We want the Szydlowiec Jews to live in people's memory, we want to bring back the memory about our yesterday's neighbours.
The project is conducted by: Ewelina Bak, Ewelina Bebas, Elwira Buczek, Mateusz Dujka, Agnieszka Kowalik, Mateusz Kowalski, Mateusz Kuzdub, Monika Lachowska, Sylwia Mlynarczyk, Dorota Sidor, Krzysztof Sokolowski, Joanna Wysmolinska.
The project is supervised by our literature teacher, Ms. Monika Lukomska-Bekiel, who always supports us with her knowledge and experience. We are also supported by Mr. Mariusz Siwik, our gym teacher.
We have joined the "To Bring Memory Back" program on April 1, 2006. We have entitled our project "The stones will speak…". The aim of our project is to discover the history of the town's Jewish citizens. We also take care of the Jewish cemetery in Szydlowiec, and interview the older citizens of our town, who remember their former neighbours.
What we have done so far:
April 13, 2006 – we met with the Mayor o our town. The aim of the visit was to establish the mode of cooperation on our project. The Mayor expressed great enthusiasm for our ideas, declared support and agreed for our taking care of the Jewish cemetery. We will soon get his official, written agreement.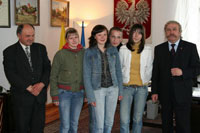 April 19, 2006 – opening of an exhibition showing the fate of Jewish children during the Holocaust, organized to celebrate the Holocaust Remembrance Day (which, in Poland, is celebrated on April 19 – the anniversary of the outbreak of the Warsaw Ghetto Uprising). The exhibition consisted of three parts, showing children's life before the Shoah, in the ghettoes and in the camps. Histories of three children were presented: Anne Frank, David Rubinowicz and a Jewish boy from Szydlowiec, Berek Wolfowicz. The exhibition was visited by c. 400 people, most of them were students from our school. Our teacher, Ms. Monika Lukomska-Bekiel, prepared lessons concerning the fate of children during the Holocaust, based on histories of Anne, David and Berek.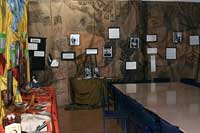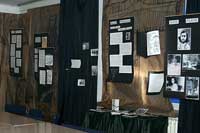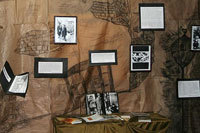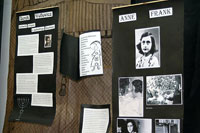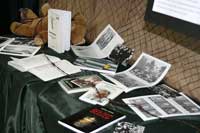 21th of April, 2006 – the cemetery cleanup.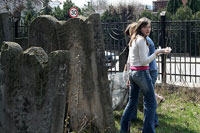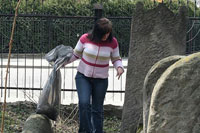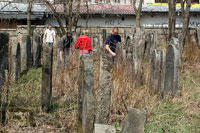 Our plans:
1. Exhibition entitled "An eternal home – the Jewish cemetery in Szydlowiec". It will be exhibited at our school, in the town hall and in a youth hostel. >
2. An evening of poetry "A Chagall's town". >
3. A tourist route "Along traces of the Szydlowiec Jews". >
4. A performance for Szydlowiec citizens, presenting Jewish tradition and culture. >
5. Preparing a brochure concerning customs connected with Jewish feasts and a brochure about live in pre-war Szydlowiec. >
6. "A Virtual Shtetl" – creating an inter-active program presenting the pre-war Szydlowiec. >
7. Exhibitions devoted to celebrities of Jewish descent. >
8. Workshops showing the richness of Jewish culture. >
9. A contest of historical essays concerning the history of Szydlowiec Jews.
What else? We will certainly think of something.
» back