"PERETZ AND HIS CIRCLE" CONFERENCE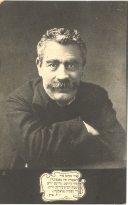 Between September 7-10, 2015,
Foundation for the Preservation of Jewish Heritage in Poland, the POLIN Museum of the History of Polish Jews, Polish Association for Yiddish Studies, and International Center for Research on the History and Cultural Heritage of Jews from Central and Eastern Europe at John Paul II Catholic University of Lublin invite you to participate in the academic conference "I. L. Peretz and His Circle."


The conference will be devoted to the life, work and milieu of the pioneer of Yiddish modernism, the writer known as the father of modern Yiddish literature, as well as to the cultural circles for which Peretz's oeuvre served as an inspiration. The conference will take place in Warsaw and Zamosc.


more info
» back