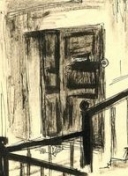 Between March 1st and 31st, 2013 an ex
hi
bition 'Elżbieta Nadel – Home Pictures – Lvov 1942' was presented at the 'Synagogue' Center of the Foundation for the Preservation of Jewish Heritage in Poland.
The exhibition was prepared by the State Museum at Majdanek
www.majdanek.eu
The works were made by a young Jewish girl, a student of Institute of Fine Arts in Lvov – Elżbieta Nadel.
The drawings were created after first deportations to the death camp in Bełżec and before the liquidation of the
Lvov
ghetto.
» back