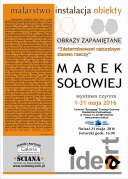 Between May 1st and 31st 2016, an exhibition "Determined by natural state of affairs", will be shown at the 'Synagogue' Center of the Foundation for the Preservation of Jewish Heritage in Poland.
The present exhibition "Determined by natural state of affairs" includes paintings and objects which may be situated somewhere near the borderline between realism and abstractionism. The artist has been exploring this subject for many years now. He returns to this cycle every three years approximately and shows his maturity as a painter. Surprisingly, it is not a repetition of artistic processes known from his previous works.
Marek Sołowiej again discovers and surprises with his new artistic vision. This time he presents a module of his own identity. The issues raised by this exhibition is the world as one might say, which relates to the very roots of human existence. His paintings and installation art show inclination towards dialogue and communication with the viewer. - Hanna Maziarczyk
Formal closing of exhibition will take place on 24th May 2016 in the "Synagogue" Center at 4:30 p.m.
» back