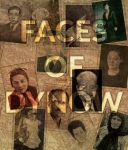 The "Synagogue" Center of the Foundation for Preservation of Jewish Heritage in Poland is pleased to invite you for the exhibition of paintings by Nina Talbot - "Faces of Dynów".
"Faces of Dynów" is a new series of paintings showing the lives of Nina Talbot's ancestors living in Dynów, historic rabbis and current residents of the town in south - eastern Poland. More information about Nina Talbot and her works can be found at:
www.ninatalbot.com
The reception took place on December 1st, 2016 at 2 pm.
The exhibition will be presented until January 25th, 2017.
» back