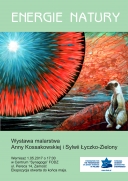 The exhibition of paintings by Anna Kossakowska and Sylwia Lyczko - Zielony titled "Energies of Nature" was shown betwen May 1st and May 30, 2017 at the "Synagogue Center" of The Foundation for the Preservation of Jewish Heritage in Poland. The reception took place on May 1st, 2017.
Anna Kossakowska's works in the form of a circular canvas were charged with a huge dose of energy and pulsed with color. Sylwia Lyczko - Zielony in her paintings appealed to nature. Works presented animals in unusual circumstances.
The exhibition was very popular.
» back