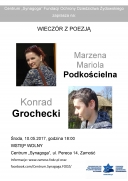 2017 is the year of Boleslaw Leśmian in Zamość, so the "Synagogue" Center also wants to focus its events towards the written word.
The Wednesday evening, May 10th, 2017 was a great opportunity to meet the beauty of poetry.
In the Zamość synagogue we hosted a meeting with Marzena Mariola Podkościelna and Konrad Grochecki, who showed us the world of their poems.
Konrad Grochecki - archaeologist, he works in the Regional Museum in Krasnystaw. He organized many cultural events and The International Monuments Protection Day in Krasnystaw. Laureate of several poetry competitions.
Marzena Mariola Podkościelna - Poet and animator of culture. Laureate of many poetry competitions. She published in many national literary magazines. In addition, Marzena is also interested in photography.
» back