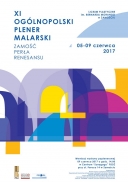 Between June 5th and June 9th, 2017 Zamość was a place of 11th National Open Air Painting - "Zamość - Pearl of Renaissance", which was organized by Bernardo Morando Fine Art School in Zamość.
The event was attended by students of arts schools from all over Poland. The effect of the plein-air painting is an exhibition that will be presented at the Synagogue Center by the end of June 2017.
The vernissage took place on June 9th, 2017 at the "Synagogue" Center.

» back