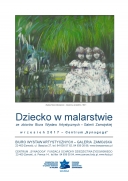 Until October 1st, 2017 an exhibition entitled "Child in paintings" will be presented in the "Synagogue" Center of the Foundation for the Preservation of Jewish Heritage in Poland.
The exhibition includes works from the collections of the Art Exhibitions Bureau - the Zamość Gallery.
The exhibition shows the work of many artists and includes different ways of showing the topic of the child. Next to traditional portraits you will see fantastic shows. Exhibition presents the paintings by: Maria Anto, Stanisław Baj, Włodzimierz Dawidowicz, Ludwik Jaksztas, Ryszard Kalamarz, Andrzej Konwerski, Waldemar Krygier, Paweł Lasik, Janusz Lewandowski, Zbysław Marek Maciejewski, Franciszek Maśluszczek, Maciej Milewski, Grzegorz Moryciński and Grażyna Przeciszewska.

» back