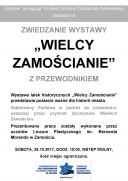 On October 18th, 2017 at 3:00 pm the "Synagogue" Center of the Foundation for the Preservation of Jewish Heritage in Poland organized a guided tour of the exhibition "The Greatest from Zamość". Tourists and inhabitants of Zamość had the opportunity to learn the rich history of the city through the prism of the famous people connected with Zamość.
"The Greatest from Zamość" is an exhibition of historical dolls organized by the Bernardo Morando Fine Arts High School in Zamość.
This is a collection of characters related to the rich history of Zamość. The project was made in the artistic woven studio under the supervision of Alicja Kowalska, by the idea of Teresa Madej.
» back