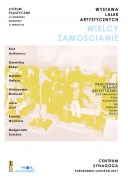 From October 2nd 2017, at the "Synagogue" Center of the Foundation for the Preservation of Jewish Heritage in Poland you would be able to see an exhibition of artistic dolls organized by Bernard Morando Fine Arts School in Zamość entitled "The Greatest from Zamość".
This is a collection of figures connected with a rich Zamość history.
We will see how the students showed people like Jan Zamoyski, Bolesław Leśmian, Karol Namysłowski, Icchak Lejb Perec or Marek Grechuta.
The project was made in the artistic woven studio under the supervision of Alicja Kowalska.
» back