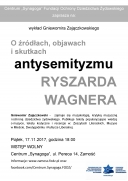 The "Synagogue" Center of the Foundation for the Preservation of Jewish Heritage in Poland invites you to a second lecture devoted to music.
Do you know that Richard Wagner, considered as one of the most outstanding representatives of German music of the nineteenth century, besides a lot of operas, choir works and overtures, also wrote a pamphlet entitled "Jewry in Music"?
Gniewomir Zajączkowski will tell us about this and other aspects of the composer's work.
The meeting will be held on Friday, November 17th, 2017 at 6pm.
Free entrance.
We invite you to join us!
Gniewomir Zajączkowski - deals with musicology, music criticism and the preservation of the Jewish heritage. He publishes popular texts on music, critical essays and reviews in "Zeszyty Literackie", "Muzyka w Mieście", "Dwutygodnik" and "Kultura Liberalna".
» back