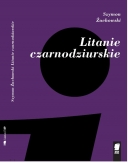 The "Synagogue" Center invites you for a meeting with Szymon Żuchowski - the poet and music critic, which will take place on Friday, June 7, 2019 at 6.00 pm. Our guest will talk about his latest poetry book "Litany czarnodziurskie" and his inspirations from folk culture and music.
It is an accompanying event of the 13th Zamość Culture Festival "Arte, cultura, musica e ..."
More information can be found on the event pages:
13. Zamojski Festiwal Kultury "Arte, cultura, musica e..."
» back