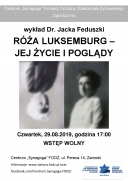 On August 29, 2019, at the "Synagogue" Center, we had the pleasure to hear a lecture by Dr. Jacek Feduszka entitled "Rosa Luxemburg - her life and views".
Rosa Luxemburg was born in Zamość. A large part of the speech was devoted to this period and her family. We traced her social and political activity, which was stopped by a brutal murder in Berlin. We were also able to get familiar with the ideological program of Rosa Luxemburg, around which, also during the communistic times, many distortions have arisen.
Thanks to Dr. Jacek Feduszka and many guests gathered!
» back