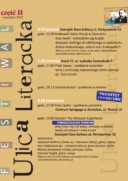 On Sunday, September 8, 2019 at 5:00 pm at the "Synagogue" Center of the Foundation for the Preservation of Jewish Heritage in Poland, will take place a meeting with Ewa Lipska, a poet and columnist. author of the volumes of poems like: "Wiersze" (1967), "Czwarty zbiór wierszy" (1974), "Piąty zbiór wierszy" (1978), "Dom Spokojnej Młodości. Wiersze wybrane" (1979), "Przechowalnia ciemności" (1985), "Strefa ograniczonego postoju" (1990), "Stypendyści czasu" (1994), "1999" (1999), "Sklepy zoologiczne" (2001), "Gdzie indziej" (2005).
This event will take place as part of the 2nd part of the "Ulica Literacka" Festival, organized by the Zamość Center of Culture (Zamojski Dom Kultury).
For more information, please visit: http://www.zdk.zamosc.pl
Free entrance.
» back