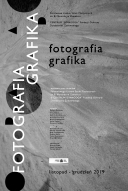 Through November and December 2019, at the "Synagogue" Center of the Foundation for the Preservation of Jewish Heritage in Poland, you can see the exhibition of works of The State Secondary School of Fine Arts in Zamość students.
The exhibition presents, among others, post-competition works inspired by the life and work of Zdzisław Beksiński. The authors are students of 4a class. The works were created in the studio of Mateusz Kitka, they were made in the digital graphics technique.
The exhibition at the "Synagogue" Center also presents photographs taken by students of class 3a. The photographs were taken under the direction of Paweł Malczenko during the plein-air photo shooting in Krasnobród.
» back