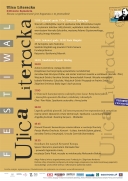 On September 11, 2020, the Literary Street Festival organized by the Zamość Culture Center will once again be hosted at the "Synagogue" Center. This year's event is entitled: "The 440th anniversary of Zamość. Our present day is richer with that past". We are very pleased, that again we can be a partner of this festival.
Friday events will start at 5.00 p.m. In program:
An Evening of Bibliophiles - a reprint of a meeting of the Book Lovers' Circle, with readings of: My Zamość texts, a lecture by Jacek Feduszko, vernissage of Henryk Szkutnik, an exhibition by Adam Gąsianowski, music by the Other Quartet.
More information can be found on the website of the Zamość House of Culture (click).
We would like to kindly inform you that in the case of bad weather conditions, some of the events scheduled for Sunday (September 13) may be moved to the 'Synagogue' Center.
» back