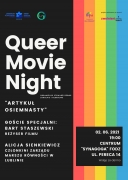 On June 2, 2021 the first meeting of the "Queer Movie Night" event series will take place at 7:00 PM in the "Synagogue" Center.
We will watch the "Article Eighteen" movie. As special guests we will be accompanied by Bart Staszewski - director of this movie and Alicja Sienkiewicz from the board of the Equality March in Lublin.
The organizers of the series of events "Queer Movie Night" are the "Lokalnie i Globalnie" Association in Zamość, the Fund for Change and the "Synagogue" Center of the Foundation for the Preservation of Jewish Heritage in Poland. Project implemented as part of the Exempt from Theory.
More information at: Queer Movie Night
» back