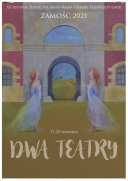 On September 17 - 20, 2021, Zamość will host the 20th Festival of Polish Radio Theater and Polish Television Theater - "Two Theaters".
The "Synagogue" Center of the Foundation for the Preservation of Jewish Heritage in Poland became a partner of this event. On Saturday and Sunday (September 18-19) meetings with the stars of the Festival will take place at our synagogue.
Admission to the events is free, the number of places is limited.
More information can be found on the website: "Dwa Teatry" Festival
» back