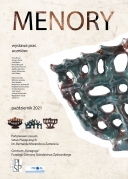 Bernardo Morando State High School of Fine Arts in Zamość and the "Synagogue" Center of the Foundation for the Preservation of Jewish Heritage in Poland are pleased to invite you to the "Menorahs" exhibition, which will be presented in the Zamość synagogue from October 8, 2021.
"Menorahs" is the result of the work done by first and third grade students of the School during exercises taking place in pandemic time. The youth, under the guidance of a teacher, Mr. Bartłomiej Sęczawa, made ceramic, glazed Jewish candlesticks. The exhibition, which includes seven-branched menorahs and nine-branched Hanukkah candlesticks, is a summary of the students' joint work.
The exhibition includes works by: Anna Baran, Justyna Hułas, Julia Matla, Marta Mazurek, Weronika Piasecka, Angelika Zaturska, Agata Żółkiewska, Sara Żółkoś, Wiktoria Cieśla, Wiktoria Gutalska, Zofia Hajduk, Magdalena Jedwabnik, Magdalena Rachańska, Amelia Rewucha, Julia Soluch, Joanna Staszewska, Magdalena Szady and Jakub Tor.
The opening of the exhibition will take place on Friday, October 8, 2021 at 11:00 in the FODŻ "Synagogue" Center at Pereca 14 St. in Zamość.
» back