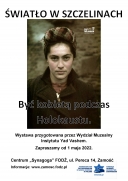 From May 1, 2022, at the "Synagogue" Center of the Foundation for the Preservation of Jewish Heritage in Poland we are presenting the exhibition "Spots of light: women in the Holocaust".
It is an adaptation of an exhibition created by the Traveling Exhibitions Department, Museum Department of the Yad Vashem Institute.
The exhibition focuses on women who were over two million victims of the Holocaust. However, it does not present drastic images. These have been kept to the necessary minimum. The exhibition shows women in a new role. Functioning in a patriarchal society, they mostly took care of the home and children. During the Holocaust, they often had to assume the role of a leader who ensured the existence and survival of the family, replace an absent man.
The exhibition is available in Polish and English.
As part of the inauguration of the exhibition, we invite you to a free entrance hours, on Wednesday, May 11, 2022, between 15:00 - 18:00.

» back