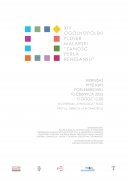 Between June 6 - 10, Zamość Old Town was the place of the 14th National Polish Plein-air Painting "Zamość - Pearl of the Renaissance".

It was organized by the Center for Artistic Education in Warsaw and the State Bernardo Morando High School of Fine Arts in Zamość.

33 participants from 16 art schools from all over Poland took part in the outdoor painting. The effects of their work can be seen at the post-plein-air exhibition, which will be presented at the "Synagogue" Center until the end of June 2022.
» back