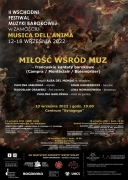 On September 12, 2022, the 2nd Eastern Baroque Music Festival - Musica dell'Anima begins in Zamość!
The second festival concert - "Love Among Muses - French Baroque Cantatas" - will be held on September 13 at 7.00 pm in the "Synagogue" Center.
The repertoire of this concert consists of cantatas of the most eminent French composers of the Baroque period, both for solo voices - soprano (dessus) and baritone (basse-taille). They all share a common theme - the love adventures of mythological or pastoral characters. However, they represent different stages of the development of the cantata genre in France - from the pioneering compositions of André Campra to the masterful forms of Michel Pignolet de Montéclair and Joseph Bodin de Boismortier. They are characterized by a distinctive sound painting, perfection of a miniature form and a quasi-operatic narration. Will the turbulent fates of mythological and pastoral heroes find solace among the muses?
The "Alba del Mondo" ensemble will take the audience on a journey to 18th-century France:
Paulina Jabłonka - soprano, Adam Kamieniecki - baritone, Radosław Orawski - traverso flute, Paulina Garlińska - viola da gamba and Lena Nowakowska - harpsichord.
More information and the full program on the Festival website.
» back