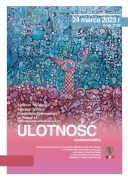 From March 17, 2023, at the "Synagogue" Center of the Foundation for the Preservation of Jewish Heritage in Poland, we present an exhibition from the Batik Studio of the Youth Cultural Center in Zamość.
Young Artists, through a dialogue with art, present the beauty, depth, uniqueness and mystery brought out with the batik technique.
The authors of the works are: Emilia Brykner, Jakub Brykner, Emilia Buczak, Zuzanna Grzywińska, Stella Jackowniak, Oliwia Kuźma, Zuzanna Kamińska, Roksana Luchowska, Kinga Majkut, Magda Rachańska, Zuzanna Skowron, Bartosz Stadnik and Maja Wiatrzyk.
The presented works were created under the supervision of Mrs. Magdalena Cieplechowicz - Buczak.
Exhibition opening: March 24, 2023, at 5:00 p.m.
The exhibition will be presented until the end of March 2023.
» back