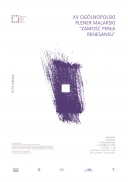 From June 16, 2023, at the FODŻ "Synagogue" Center, we present the exhibition of the 15th National Painting Plein-Air "Zamość Pearl of the Renaissance".
This year, 27 participants from art schools across Poland took part in the event. For four days, they were painting and presenting the most important monuments, charming alleys and details of the Ideal City.
The official end of the plein-air and the award ceremony took place in our synagogue on June 16, 2023.
Congratulations to all participants! The results can be found at: https://www.gov.pl/web/plastykzamosc/zamosc-perla-renesansu
The organizers of the event are the Center for Artistic Education in Warsaw and the Bernardo Morando State High School of Fine Arts in Zamość.
» back