Krobia, ul. Mickiewicza , wielkopolskie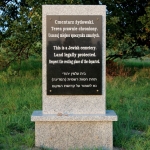 The Jewish cemetery in Krobia, located on Mickiewicza Str. was established in the second half of the 19th century. First Jews came to Krobia in 1833. In 1921 the Jewish community made 5% of the total population of the town. Last burial on the cemetery took place in 1939. No matzevot are preserved today. The acreage is 0,9 ha.
In 2014 the authorities installed a memorial plaque on the cemetery grounds.