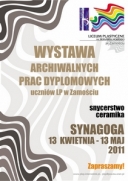 We invite you to the "Synagogue" Center for an exhibition co-organized by the Foundation for the Preservation of Jewish Heritage in Poland and the Bernardo Morando Fine Arts High School. Selected graduation projects of the High School students are exhibited from April 13th to May 10th, 2011.

Please visit the new website of the Zamosc synagogue revitalization project at www.zamosc.fodz.pl

The "Revitalization of the Renaissance synagogue in Zamosc for the needs of the Chassidic Route and the local community" project is supported by a grant from Iceland, Liechtenstein and Norway through the EEA Financial Mechanism and the Norwegian Financial Mechanism.

» back