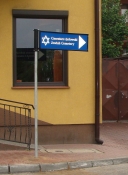 Foundation for the Preservation of Jewish Heritage in Poland has installed road signs in Radoszyce, pointing the way to the local Jewish cemetery.


Jewish cemetery in Radoszyce was established in the 18th century. The grave of Rabbi Issachar Ber Baron, Tzaddik of Radoszyce and disciple of the Seer from Lublin, is located on the cemetery grounds.
His ohel is annually visited by his followers.
» back