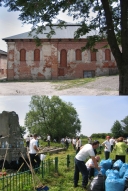 On June 22, 2006, a group of 180 Israeli soldiers, in cooperation with the authorities of Krasnik, will be clearing up the cemetery in Krasnik.
The cleanup is a part of a project of engaging the Israeli soldiers in the Polish Jews' heritage upkeep.
The project is coordinated by the Yad LeZehava Holocaust Research Institute.
» back