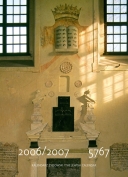 We are glad to inform you that the Jewish Calendar for 5767 published by the Foundation for the Preservation of Jewish Heritage in Poland and the Union of Jewish Communities of Poland is available.
Our calendar presents synagogues in Zamosc, Krasnik, Klimontow, Wielkie Oczy, Warsaw, Cracow and others, as well as Jeshivat Chachmei Lublin and the Jewish cemeteries.
The calendar is both in English and Polish and gives the Warsaw's hours of candeling, Parshiyot, Maftir and Haftarot for Festivals in 5767.
If you wish to buy it, please contact us at
pamiec@fodz.pl
.
Buying the calendar you support the Jewish heritage in Poland.
| | |
| --- | --- |
| Jeshivat Chachmei Lublin | Jewish cemetery, Warsaw, Bródno |
| Synagogue, Orla | Synagogue, Włodawa |
| Synagogue, Tykocin | Synagogue of Izaac, Cracow |
| Synagogue, Zamość | Synagogue, Kraśnik |
| Jewish cemetery, Lutowiska | Synagogue, Klimontów |
| Synagogue, Wielkie Oczy | Jewish cemetery, Karczew |
| Nozyks' Synagogue, Warsaw | ? |
» back