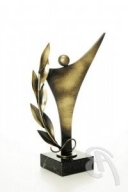 Marking the 25th anniversary of the resumption of diplomatic relations between Poland and Israel on June 21, 2015 the first Laurel Crown Decoration was awarded, recognizing Polish citizens involved in Preservation of Memory and Jewish Heritage.
The Award is extended by the Israeli Ambassador to Poland, Ms. Anna Azari, in cooperation with the Polish Ministry of Culture and the Foundation for the Preservation of Jewish Heritage in Poland.
The event took place on June 21, 2015 at the Polish residence of the Israeli Ambassador in Warsaw.

Among the recipients of this year's award were:
Eugeniusz Gradek, pastor of the Pentecostal Church in Zywiec, who along with his congregation care for the local Jewish cemetery.
Prof. Jerzy Mizgalski, of the Faculty of Philology and History of the Jan Dlugosz Academy in Częstochowa, who for many years has engaged in the protection of the heritage of Częstochowa Jews.
Małgorzata Motor, a journalist of Lezajsk who has written extensively on Jewish themes.
Major Marek Wrona from the prison in Wadowice, who for the past nine years has organized the clean up of the Jewish cemeteries in Andrychów and Wadowice by prison inmates.
School team in Strzegom, where students and teachers have organize care for the local Jewish cemetery since 2011.
» back