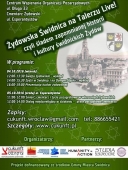 Our Foundation is a partner of "The Trace of Forgotten Jewish Culture in Swidnica" event, which will take place between October 4-5, 2016 in Swidnica. The event is being organized by the Cukunft Jewish Association with the support of the Municipality of Swidnica and Humanity in Action. Within its framework 2-day educational and socio-cultural event will take place in Swidnica, including lectures on Jewish history and culture with special emphasis on Jewish heritage of Swidnica,
and cleaning works at the local Jewish cemetery.
The whole project will be completed with Cukunft Jewish Culinary Workshops.
» back