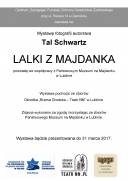 The "Synagogue" Center of the Foundation for the Preservation of Jewish Heritage in Poland would like to invite to an exhibition of photographs by Tal Schwartz - "Dolls of Majdanek."
The exhibition was prepared in cooperation with the State Museum at Majdanek in Lublin (
www.majdanek.eu
) and is presented courtesy of The "Grodzka Gate - NN Theatre" Centre from Lublin (teatrnn.pl).
Tal Schwarz, young Israeli photographer, simply and movingly presented the dolls which belonged to the prisoners of the former German Nazi concentration camp and are currently stored in the archives of Majdanek. An integral part of the exhibition is the catalogue, in which visitors can read the dolls inventory cards, owned by the Majdanek State Museum in Lublin.
The exhibition will be presented in the "Synagogue" Center till March 31, 2017.
» back