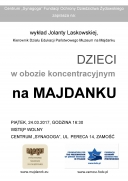 The "Synagogue" Center of the Foundation for the Preservation of Jewish Heritage in Poland would like to invite to the lecture by Jolanta Laskowska, head of the Education Department of the State Museum at Majdanek.
The meeting will be held on Friday, March 24th, 2017 at 4:30 pm.
The subject of the lecture will be the situation of children in the concentration camp at Majdanek. We will get to know the stories of Polish, Polish - Jewish and Belarussian children, whose early years were ruined by World War II. We will find out how they got to the camp and how their origins affected their possibilities to survive.
In the second part of the lecture Jolanta Laskowska will present the individual stories of four children: Henio Żytomierski from Lublin, Halina Grynsztejn from Warsaw, Janina Buczek from Zamosc region and Piotr Kiriszczenko from Belarus.
Jolanta Laskowska - graduated the Faculty of History at UMCS in Lublin. Since 2008 she works at the State Museum at Majdanek, since 2016 as a Head of the Education Department. Author of many scenarios of museum lessons and workshops for children and adolescents as well as workshops for adults in Polish and English . Co-author of publications devoted to didactics in memory places.
» back