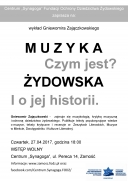 The "Synagogue" Center of the Foundation for the Preservation of Jewish Heritage in Poland would like to invite you to Gniewomir Zajączkowski's lecture - "Jewish music - what is it and its history".
The lecture will be an attempt to a synthetic presentation of the history of music, which is called the "Jewish music", as well as the answer to the question what it actually is and how can we understand it.
This is the first meeting from a series of lectures about Jewish music. An introduction to several more, which will concern to the works of Jewish composers and performers with a special focus on opera singers and conductors (including Polish ones) and Jewish vocal lyrics. All will be illustrated with interesting musical examples.
The meeting will be held on Thursday, April 27th, 2017 at 6pm. Entrance free.
We invite you to join us!
Gniewomir Zajączkowski - deals with musicology, music criticism and the preservation of the Jewish heritage. He publishes popular texts on music, critical essays and reviews in "Zeszyty Literackie", "Muzyka w Mieście", "Dwutygodnik" and "Kultura Liberalna".
» back