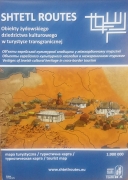 Our Foundation is a partner in the project "Shtetl Routes. Vestiges of Jewish cultural heritage in cross-border tourism", carried out by the Grodzka Gate – NN Theatre Centre in Lublin.
The goal of the project is to develop a narrative and tools that will be successfully used in tourism on the Polish, Ukrainian and Belarusian borderland, and to support local development.

It is being
co-financed by the European Union.
More information
» back