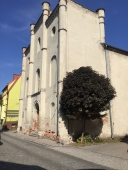 On 8 September this year, representative of FODŻ met at the Municipal Office in Ziębice with Mayor Mariusz Szpilarewicz and Deputy Mayor Małgorzata Wołczyk. The topic of tis meeting were prospects of establishing cooperation between FODŻ and the local authorities of Ziębice concerning preservation of building of the synagogue belonging to the FODZ, located at 9 Wąska Street.
Local authorities representatives expressed their readiness to cooperate with FODZ in taking care of the synagogue building and making it available for the purposes of tourism, educational, cultural and marketing activities, in relation to both the residents of Ziębice and people who visit this town.
Representatives of local authorities also expressed their readiness to take over the care of the area of the Jewish cemetery located in Ziębice, at Władysława Łokietka Street, belonging to FODZ.
During the meeting on September 8, Mayor Mariusz Szpilarewicz emphasized that the "First of all Ziębice" Association operating in Ziębice developed in 2021 a project called "Trail of Ziębice Jews", the aim of which is to commemorate the places, history and culture of the Jewish community that inhabited Ziębice and made a large contribution to the development of this town. The project met with a lively interest of residents and guests coming to Ziębice for tourist purposes. In the opinion of the Mayor, this proves the great interest on the part of local communities and tourists in getting acquainted with the historical multiculturalism of Ziębice and aspects of Jewish life in this town. Thus, it is the basis of social interest, on the basis of which it will be possible to restore life in the building of the Ziębice synagogue, in accordance with the signaled interest of the local community and local authorities.
The most famous of the representatives of the Ziębice Jewish community was merchant, landowner and philanthropist Julius Schottländer. Outstanding doctors and scientists were Carl Weigert and Oskar Berger also born in Ziębice.
» back