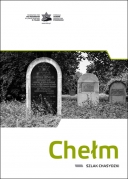 We are happy to report that the 'Chassidic Route. Chelm', a publication dedicated to the history of Jews in Chelm, one of the most magnificent towns of the Chassidic Route, was recently published.
More brochures dedicated to the history of the Jewish communities in other localities of the Chassidic Route will follow, first of them will being publications about Jaroslaw, Krasnik, Lesko, Lezajsk, Ropczyce, Rymanow and Ustrzyki Dolne. The brochures about Zamosc and Sanok are already available.
An online version of the brochure, along with additional pictures and materials about the Chelm Jews can be found on POLIN - Polish Jews Heritage web portal at www.polin.org.pl.
» back