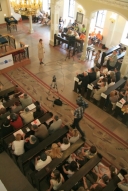 On June 1, 2008, nearly 200 students and teachers from 33 schools and culture centers, from kujawsko-pomorskie, lubuskie, lodzkie, mazowieckie, podlaskie, pomorskie, warminsko-mazurskie and wielkopolskie provinces, took part in the final showcase of the 'To Bring Memory Back' educational program led by the Foundation for the Preservation of Jewish Heritage in Poland.

In Warsaw's Nozyk Synagogue, thanks to the support of the Jewish Religious Community in Warsaw, the participants have shown the results of their actions for the protection of the multicultural heritage and bring back its memory to the guests and experts. They also took part in walking trips to the Warsaw ghetto, Israeli dance workshops, and singing performed by Jan III Sobieski High School's choir 'Tutti Cantamus'.

Among the guests were His Excellency the Ambassador of Israel, the representatives of the German Embassy, Chancellery of the President of Poland, Ministry of Culture and National Heritage, Ministry of Internal Affairs and Administration, Jewish Religious Community of Poland, and different non-governmental organizations. The students' works were reviewed by the experts from the Jewish Historical Institute, 'Midrash' Society, Institute of National Remembrance, Center for Citizenship Education, 'Children of Holocaust in Poland' Society and Jacek Kuron Multicultural High School.

145 schools and culture centers take part in this year's edition of 'To Bring Memory Back' educational program. Some of their activities are described on the program's website www.pamiec.fodz.pl.



» back