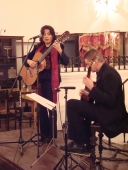 On November 7, 2008 a panel discussion dedicated to the intercultural dialogue, resuming the 'Leczna - Common Past, Two Cultures' project and a concert of Sephardic music performed by Anya Jagielska took place in the former synagogue building in Leczna . Participating were Ph.D. Slawomir J. Zurek, Professor of the Catholic University in Lublin, Ph.D. Adam Kopciowski of the Marie Curie-Sklodowska University in Lublin, and Rev. Stanislaw Korona. 65 inhabitants of Leczna came to the meeting.
The event was held within the frames of the 'Leczna. Common Past, Two Cultures', realized with financial support of the Town Office of Leczna, and as part of the 'Research on the Attitude Towards Jews and Their Heritage. Cooperation with Local Partners in Selected 15 Towns. Education for Tolerance' program, supported by the Batory Foundation. Both projects are realized by the Foundation for the Preservation of Jewish Heritage in Poland.
The meeting took place in the Regional Museum building in Leczna.





» back