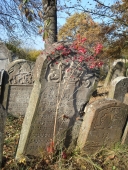 Foundation for the Preservation of Jewish Heritage in Poland wishes to express its most sincere thanks to all who during the incoming festive days showed respect to their deceased Jewish compatriots buried on over 1200 Jewish cemeteries and uncounted mass graves spread throughout the country. We also would like to thank the authors of social initiatives related to the commemoration of Jewish cemeteries we were informed of:
- Olsztyn, Jewish cemetery at Zyndrama z Maszkowic St, November 1, 2008, 14:00;
- Bilgoraj, Jewish cemetery at Konopnickiej St, November 2, 2008, 17:30;
- Warsaw, fundraising event at the Jewish cemetery on Okopowa St, November 2, 2008, 10:00.
In order to locate Jewish cemeteries and memorials we recommend to visit our cemeteries database and POLIN- Polish Jews Heritage web portal www.polin.org.pl.

» back