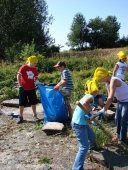 On August 17, 2009 the "Za Brama" Foundation in cooperation with the Foundation for the Preservation of Jewish Heritage in Poland was cleaning up the Jewish cemetery in Krasnik.
It is another year that the "Za Brama" Foundation www.zabrama.pl conducts cleanup works at the necropolis.
The activity is implemented within the framework of the Chassidic Route project.
» back