The 'Synagogue' Center is a museum and a modern cultural center functioning in the building of the Renaissance synagogue in Zamosc. The synagogue was restored by the Foundation for the Preservation of Jewish Heritage in
Poland
thanks to the support of
Iceland
,
Liechtenstein
and
Norway
within the framework of the EEA Financial Mechanism and the Norwegian Financial Mechanism. The Center was opened on April 5th, 2011. The President of the
Republic
of
Poland Bronislaw Komorowski
held honorary patronage over the opening ceremony.

Currently operating in the building of the 17th century synagogue is the
Multimedia
Museum
of the History of the Jews of Zamość and the Surrounding Area. Several exhibitions, lectures and concerts as well as seminars and academic conferences also take place there. Thanks to the existence of the 'Synagogue' Center visitors can learn about the history of the Jewish community which over several centuries took part in shaping the region's intellectual, religious and cultural identity. Part of the building has been adapted for the needs of local NGOs active in the area of
culture
. The synagogue also has a religious function, serving as a place of prayer to Jewish groups visiting Zamosc.
div>
More about the project >>


'JEWISH STUDIES. ALMANAC' 2012-03-15
'THE WELL OF MEMORY' ASSOCIATION - PARTNERSHIP 2012-03-14

The non-governmental organization from Lublin, the 'Well of Memory' Association, is a partner of the Foundation for the Preservation of Jewish Heritage in Poland in the project
Creating a team of cultural animators for the 'Synagogue' Center
. The project will
more »

VOLUNTARY WORK AT THE 'SYNAGOGUE' CENTER 2012-03-12
EXHIBITION 'MEDINAT ISRAEL – STATE AND IDENTITY' 2012-03-04

Between January 28th, 2011 and

March 4th, 2012 a

photo exhibition 'Medinat

Israel

– state and identity' by

Joanna Krauze was presented at the 'Synagogue' Center of the Foundation for the Preservation more »

CHANGE OF OPENING HOURS 2012-03-01
We kindly remind you that between March 1st and October 31st the 'Synagogue' Center is open from
10.00 am
to 6
.00 pm.
more »

'EVERY VICTIM HAS A NAME' EXHIBITION 2012-01-27
WORKSHOPS FOR STUDENTS 2012-01-27

On
January 27th, 2012
to honor the International Holocaust Remembrance Day, workshops entitled 'The Holocaust in the Zamosc region in testimonies of witnesses' took place at the 'Synagogue' Center of the Foundation for the Preservation more »

'HOLIDAYS IN THE JEWISH TRADITION' 2012-01-24

On
January 24th, 2012
at the 'Synagogue' Center of the Foundation for the Preservation of Jewish Heritage in
Poland
a lecture for 120 students of the
Zamosc
University
more »

FINE ARTS HIGH SCHOOL EXHIBITION 2012-01-03

Between December 1st, 2011 and January 3rd, 2012 at the 'Synagogue' Center of the Foundation for the Preservation of Jewish Heritage in Poland an exhibition 'The Zamosc Architecture' was presented. It consisted of works of the graduate students of the Bernardo Morando more »

JANUSZ STANNY EXHIBITION 2011-11-30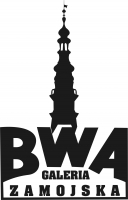 Between October 15th and

November 30th, 2011 at t

he 'Synagogue' Center of the Foundation for the Preservation of Jewish Heritage in
Poland
the exhibition of Janusz Stanny, a famous Polish illustrator, was presented. The exhibition more »

1
|
2
|
3
|
4
|
5
|
6
|
7
|
8
|
9
|
10
|
11
|
12
|
13
|
14
|
15
|
16
|
17
|
18
|
19
|
20
|
21
|
22
|
23
|
24
|
25
|
26
|
27
|
28