The 'Synagogue' Center is a museum and a modern cultural center functioning in the building of the Renaissance synagogue in Zamosc. The synagogue was restored by the Foundation for the Preservation of Jewish Heritage in
Poland
thanks to the support of
Iceland
,
Liechtenstein
and
Norway
within the framework of the EEA Financial Mechanism and the Norwegian Financial Mechanism. The Center was opened on April 5th, 2011. The President of the
Republic
of
Poland Bronislaw Komorowski
held honorary patronage over the opening ceremony.

Currently operating in the building of the 17th century synagogue is the
Multimedia
Museum
of the History of the Jews of Zamość and the Surrounding Area. Several exhibitions, lectures and concerts as well as seminars and academic conferences also take place there. Thanks to the existence of the 'Synagogue' Center visitors can learn about the history of the Jewish community which over several centuries took part in shaping the region's intellectual, religious and cultural identity. Part of the building has been adapted for the needs of local NGOs active in the area of
culture
. The synagogue also has a religious function, serving as a place of prayer to Jewish groups visiting Zamosc.
div>
More about the project >>


ZAMOSC - TEL AVIV 2011-08-01

The Foundation for the Preservation of Jewish Heritage in Poland invites to the website of Beit Hatfutsot, the Museum of the Jewish People, where there are two articles by Haim F. Ghiuzeli about the history of Zamosc Jewry and the Old Town synagogue.
They are available in two language
more »

EXHIBITION OF DRAWINGS BY KRZYSZTOF SUSZEK 2011-07-31

Between July 10-31st, 2011 an exhibition of drawings by Krzysztof Suszek was presented in the 'Synagogue' Center in Zamosc. Their subject matter is mainly concentrated on the synagogue architecture of Southern and Eastern Poland.
Krzysztof Suszek is an artist by passion and
more »

GUIDED WALK AROUND JEWISH OLD TOWN IN ZAMOŚĆ 2011-07-19

On July 19, 2011 a guided walk around Jewish Old Town in Zamość took place. It was co-organized by the Foundation for the Preservation of Jewish Heritage in Poland and the 'Quand' Tourist Office .
During the walk, tourists were guided around the historical Jewish
more »

GRADUATION CEREMONY AND DISCUSSION PANEL 2011-07-09
EXHIBITION - 5TH OUTDOOR PAINTING WORKSHOP 2011-07-08

Between June 10th and

July 8th, 2011 an exhibition of the works created during the 5th Nationwide Outdoor Painting Workshop 'Zamosc – the Pearl of Renaissance' was presented in the 'Synagogue' Center. The exhibition was co-organzied by t

he more »

SUNG POETRY CONCERT: 'OFENSYWA BRUNETÓW' 2011-07-08
MOVIE NIGHT: 'GOLEM' 2011-06-24
SEMINAR 2011-06-15

On June 15th, 2011 in the 'Synagogue' Center in Zamosc a lecture 'Determinants of Development of the World Cultural Heritage Cities' took place. It was co-organized by the Foundation for the Preservation of Jewish Heritage in Poland and the Zamosc University of Management more »

TRAINING FOR TEACHERS 2011-06-05

On
June 5th, 2011
at the 'Synagogue' Center in Zamosc a training for teachers took place. The subject of the training was the history of the Jews in the
Lublin
region. The event was co-organized by the Panorama Kultur Association more »

'THE DEATH CAMP IN BELZEC' 2011-05-31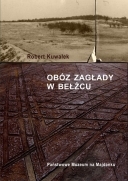 On

May 31st, 2011

in the 'Synagogue' Center in Zamosc
a meeting promoting the latest book by Rober Kuwalek 'The death camp in Belzec' (published by the State Museum at Majdanek, Lublin 2010) took place. The meeting was more »

1
|
2
|
3
|
4
|
5
|
6
|
7
|
8
|
9
|
10
|
11
|
12
|
13
|
14
|
15
|
16
|
17
|
18
|
19
|
20
|
21
|
22
|
23
|
24
|
25
|
26
|
27
|
28
|
29
|
30
|
31