The 'Synagogue' Center is a museum and a modern cultural center functioning in the building of the Renaissance synagogue in Zamosc. The synagogue was restored by the Foundation for the Preservation of Jewish Heritage in
Poland
thanks to the support of
Iceland
,
Liechtenstein
and
Norway
within the framework of the EEA Financial Mechanism and the Norwegian Financial Mechanism. The Center was opened on April 5th, 2011. The President of the
Republic
of
Poland Bronislaw Komorowski
held honorary patronage over the opening ceremony.

Currently operating in the building of the 17th century synagogue is the
Multimedia
Museum
of the History of the Jews of Zamość and the Surrounding Area. Several exhibitions, lectures and concerts as well as seminars and academic conferences also take place there. Thanks to the existence of the 'Synagogue' Center visitors can learn about the history of the Jewish community which over several centuries took part in shaping the region's intellectual, religious and cultural identity. Part of the building has been adapted for the needs of local NGOs active in the area of
culture
. The synagogue also has a religious function, serving as a place of prayer to Jewish groups visiting Zamosc.
div>
More about the project >>


Roztocze in paintings - exhibition by Dariusz Król 2019-09-01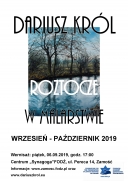 On September 2019 in the "Synagogue" Center of the Foundation for the Preservation of Jewish Heritage in Poland, we will be presenting the paintings exhibition of Dariusz Król entitled "Roztocze in painting".
Dariusz Król is an artist from Szczebrzeszyn who reflects
more »

Lecture about Rosa Luxemburg 2019-08-29
"The Capital of Polish Language" Festival 2019-08-11

On August 11, 2019, part of the events of "The Capital of Polish Language" Festival's Zamość Day took place in our synagogue.
Meeting with Father Tomasz Dostatni (Dominican, publicist, author of "Duchowe wędrowanie",
more »

Berlin - a musical metropolis 2019-08-10

On August 10, 2019, we had the opportunity to listen to a lecture by Gniewomir Zajączkowski, a music critic and our colleague, about the opera scene of Berlin in the first half of the 20th century.
We took a musical and visual journey of the best Berlin scenes and their architecture. Gniewomir
more »

Renata Kaminska - Zjawa/Phantom Monument 2019-06-28
"Zamość - The Pearl of the Ranaissance" 2019-06-08
Meeting with Szymon Żuchowski 2019-06-07
"Mille voci una stella" 2019-06-06
Jewish Zamość - workshop 2019-06-03
11th Zamość Night of Museums 2019-05-18
1
|
2
|
3
|
4
|
5
|
6
|
7
|
8
|
9
|
10
|
11
|
12
|
13
|
14
|
15
|
16
|
17
|
18
|
19
|
20
|
21
|
22
|
23
|
24
|
25
|
26
|
27
|
28
|
29
|
30
|
31